Surfing on the sand….yes count me in!
Gnarly dude, It's like totally tubular man, you know like really rad bra! Maybe that is a little over the top, but surfing on the sand is still pretty cool. Except when it is freakin hot, yeah we have picked a scorcher of a day to give this a try.
Sand boarding is another must do on the Life List.
Jules, Zozo and I have wanted to try this experience for some time. We have organised Sand Dune Safaris an adventure company based at Port Stephens to take us out into the dunes in their 20 seater 4wd bus.
Location, Location, Location
When I think of a beach the image is a thin strip of golden sand lapped by waves. Conversely when I picture sand dunes I think of a wind swept desert stretching out as far as the eye can see. Well Stockton Beach has both which is very cool. It is easily accessible and much closer to civilization than say the Sahara.
Stockton Beach * just north of Newcastle in New South Wales is a 32km stretch of beach with huge sand dunes. Just perfect for sand boarding. We have previously been here for our 4wd sand dune adventure. 
There is any number of different activities that occur in this golden oasis. You will find 4wd enthusiasts, quad bikers, people riding horses, surfers, windsurfers and kite boarders, fishermen a plenty including some lunatics that love to catch Great White Sharks using their surf boards. Today there is some intrepid sand boarders ready to shred the dunes.
Heat stroke anyone?
I've been up and down these slopes countless times and having a complete blast but fatigue is setting in.
It's 40 degrees C, fast approaching midday and I can see smoke rising from my searing flesh. What was initially fun is quickly turning into a serious workout. The surf down the dune is awesome. The walk to the top …hmmm not so much.
"Where's the chairlift?" was Jules first remark.
It is getting frustrating for Zozo  as the bigger kids (myself included) are riding the sand boards standing up. She can't quite master it and in this heat is becoming a little more despondent with each attempt. Maybe its time to cool off…great idea, where? We are surrounded by sand dunes and little else. Fortunately Sand Dune Safaris come to the rescue with a shade shelter, picnic chairs and some ice cold water. Well done team!
Just one more
I am sure you have all been in a situation where you could have stopped and been content…. but alas you don't. Like when there is a last piece of cake, what about the final beer for the night? Maybe even the last dance with that special someone before you leave the nightclub.
You know you shouldn't but you can't help yourself. What harm can it do?
Well the last piece of cake puts on another 2 pounds. When is one more beer ever been a good idea? and some of us just shouldn't dance period. Can I tell you my last sand boarding run was all that and more.
All day I have managed to stay upright and ridden pretty well for an old bloke. On this run I am going well until I hit some chewed up sand at the base of the dune, I catch an edge and do my best superman impersonation. Horizontal to the sand my feet begin to gain more momentum than my torso. It's that horrible realization I will face-plant and manage to touch the back of my head with the soles of my feet as I cartwheel through the sand.
Unfortunately (fortunately depending on whose viewpoint you take) we didn't get footage of this wipeout. I manage to completely schnitzel myself (bread-crumb myself with sand). In the process I also managed to break a good pair of sunnies and eat so much sand I think I will poop out a beach.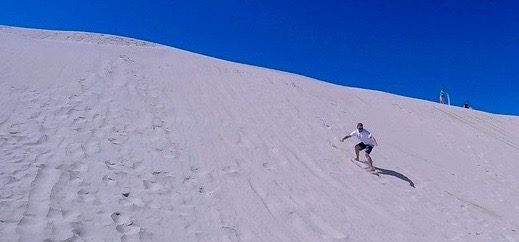 Sand boarding is a young mans game that is for sure
I am really happy to check another bucket list goal from This Life List.  I recommend you try sand boarding but be careful as this old man is a little busted up and ready for an ice cold beer.
*  Footnote: There is a claim that the sand on Waikiki beach in Hawaii was shipped from Stockton Beach. I was told this years ago on a visit to Hawaii. After seeing first hand the sand mining at Stockton I find this plausible. But through research ( Google is your friend) I have read this is not actually true.