There is something spiritual about a sunrise over the ocean.
Golden beams of light dancing on the water as the sky opens and the nights darkness is washed away. Like the birth of a new child, it fills you with hope and inspiration. My feelings exactly as I stand on Manly Beach for my first ocean swim.
It's been a good number of years since I swam any further than the pool bar at the Anantara Resort in Thailand. I was facing a daunting 1.5 kilometres of open ocean swimming but my mind was at peace, I could do nothing more than admire mother nature's beauty.
I was at Manly to join 300 other like-minded swimmers as part of the Bold & Beautiful Swim Squad. The swim was from Manly to Shelly Beach a distance of 750 metres in each direction. The great part is every swimmer has a bright pink swim cap and with the vast number of swimmers together in the water it really is an amazing sight.
I am invited to join the group by my good friend Bruce who makes this swim regularly. He fills me with confidence telling me the crowd will drag me along even if I get tired. I am pumped.
Budgie Smugglers…..mmmm do I have to?
I am a board shorts kind of guy. Swanning around in a pair of Speedos is not really a comfortable thing for me, but there is no way I am swim 1.5 kms in a pair of boardies. I'm likely to drown for vanities sake.
I whip off my shorts and grab my swim goggles it's time to hit the water, the temp is a lovely 22 deg C. With the sun rising rapidly we set off, all 300 swimmers. The calm sea quickly turns to chop as arms and feet mash the water. I swim over one person and rubbed shoulders with countless others before I found a rhythm and some open water. The clean water allows me to power on towards Shelly Beach. I make it to the halfway point, and recover on the shore filming a wave of pink caps advance the beach like a colony of seals. I've swum the first leg quite well, but am pretty beat up. The second leg has me a little nervous.
Is that gun in your pocket?
The journey home is low key as I hugged the coastline and I spend my time taking in all the sea life like some pretty big fish. A couple of bull rays and some interesting seascapes. I arrive back on Manly beach as one of the last of the stragglers. Happy to be on land and able to relax. All in all I've had a fabulous time and this is something I will definitely do again. Although I will not be taking my Go Pro next time as it was very uncomfortable shoved into my speedos for the journey.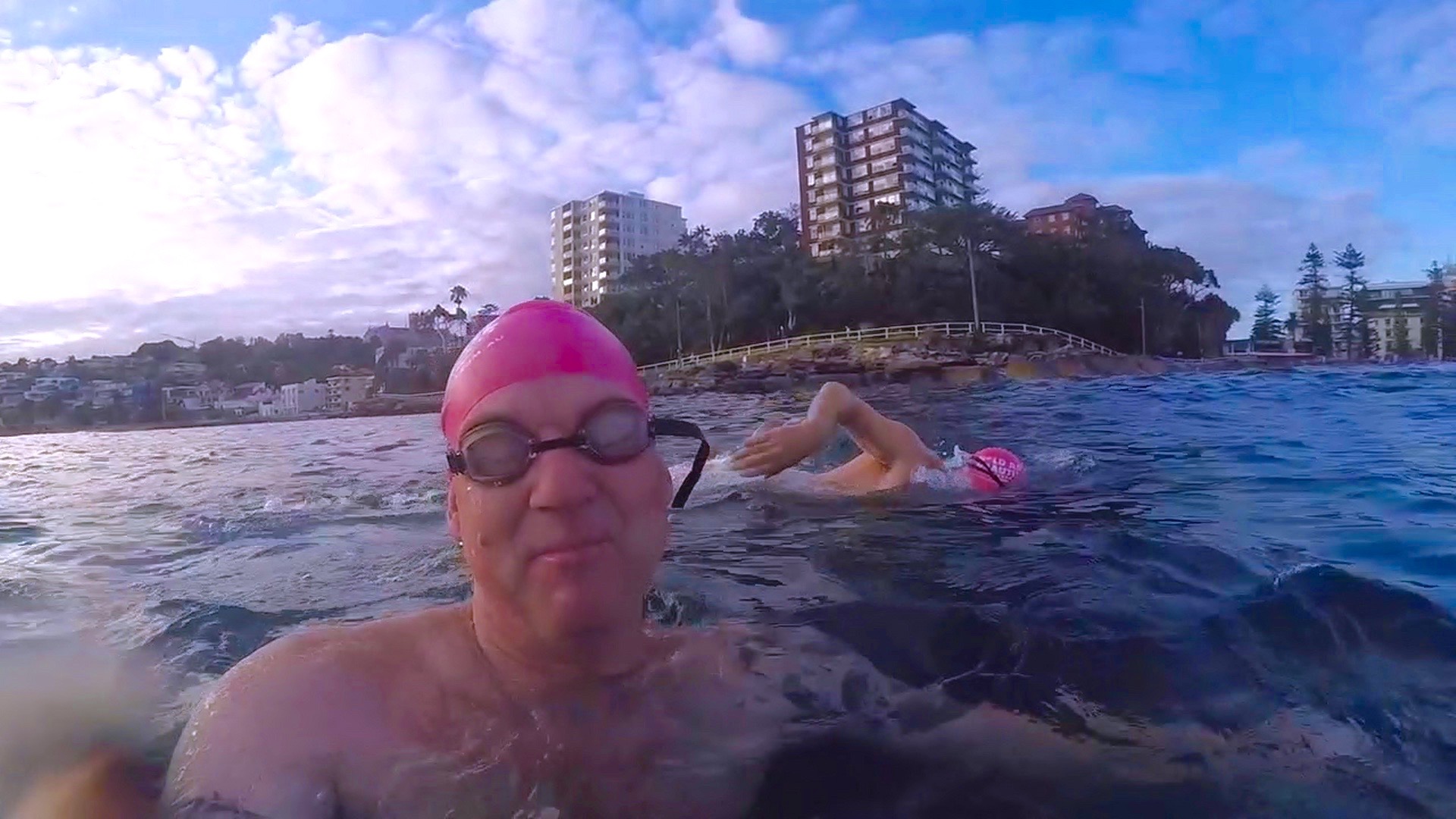 Ocean swim another This Life List adventure checked off