Swimming with elephants just has to be on your bucket list!
Once in a lifetime experiences are mind blowing. Our day with the elephants is no different. If you take the time to create a Life List, some experiences are a must. For us it was this! Jules and I specifically flew to Chang Mai to have our special elephant  encounter with these massive creatures. Jules did a huge amount of research and we decided Patara Elephant Farm was the experience we were after.
There is a lot of conjecture regarding riding elephants. Is it ethical? Are the best interests of the elephant being observed? These are some questions you need to ask yourself before you try this experience.
We didn't want to ride the elephant without giving something back. Jules and I both feel comfortable spending more money on this experience knowing our dollars are being spent on the elephants. With this experience we also had the opportunity to feed, bath and interact with the elephants. It was critically important for us to ride bare back on the elephants and not in a wooden saddle which is all about respect for the elephant.
Pink is not my colour
I am pumped, Jules more so than me, as she has an affinity for elephants. Our courtesy bus stops just outside the sanctuary where we meet a family of elephants, to our delight we are introduced to a day old calf. She was gorgeous, Jules hand feeds another baby who is barely two weeks old. They are so precious. Considering the crisis facing the wild elephant population of Thailand the sight of so many baby elephants makes me happy.
Jules and I are part of a group of 6 paying guests. At Patara guests are matched one on one with an elephant. It's an all day experience involving a huge bonding session between you and your partner elephant.
Before we are introduced to our respective elephant we are given a traditional Mahout garb. Jules looks pretty good in blue, somehow I score the pale pink number? I'm a little perplexed, Jules gives me the look "suck it up princess its only going to be splashed across the internet for life".
The elephant farm is in a dense jungle and there is some other wildlife we have to contend with.
WOW the mosquitoes are huge and hungry!
I must say Jules is a genius! She has thoughtfully packed some insect repellent and I give myself a liberal dose. Once dressed we are itching to meet our elephants.
It's a family thing
The bonding session begins with Jules and I meeting the grandmother, the daughter and the grand daughter. My elephant Ploy is the grandmother and matriarch of the group. Jules is bonding with Chaapoo the daughter who has a daughter of her own Yaya. Yaya is a typical infant who is inquisitive and mischievous. She is completely adorable too.
We start off getting to know one another.  There is a sense of apprehension for us both. Due to her sheer size and the ability to  crush me with ease I am by far the more tentative. I learn a few commands spoken in Thai that will assist me through the day.  But who are we kidding here? Ploy is running this show,  I'm just along for the ride (pun completely intended).
I feed her some fruit and sugar cane. Ploy gladly accepts and the friendship is building. I am not only starting to feel more comfortable I also get an understanding of why the Thai people love elephants so much. It's heartbreaking to think these elephants could be lost to Thailand.

The plight of the diminishing Thai elephants
The elephant is the national animal of Thailand
There are only 3,000 to 4,000 elephants left in Thailand
In 1850 there was an estimated 100,000 elephants in the wild across Thailand and many more across Asia
Of the 3,000 to 4,000 elephants  in Thailand over half of those are domesticated
They are now on the Red List for threatened species
The destruction of their natural habitat due to logging and human encroachment is having devastating effects
Like African elephants the males have been hunted and poached for their ivory
In 1989 Thailand along with the rest of the world banned ivory products (far too late if you ask me)
Life expectancy of the elephant is between 30-50  years in the wild some times longer in captivity
Fresh elephant poo is moist
I know this because I  test my elephants poo making sure it is wet. Moist poo is a sign the elephant is healthy. I squeeze the poo and watched the juices flow. It sounds far more gross than it is. Its just wet vegetation. The elephants diet is a mix of fruit, grasses, bamboo shoots, leaves and banana trees. An elephant that weighs 4000 kg will eat up to 150kg of vegetation a day. They also consume around 150 litres of water per day. It's a big task to make sure they are well fed. The mahouts at Patara are doing a bang up job, as these elephants look great.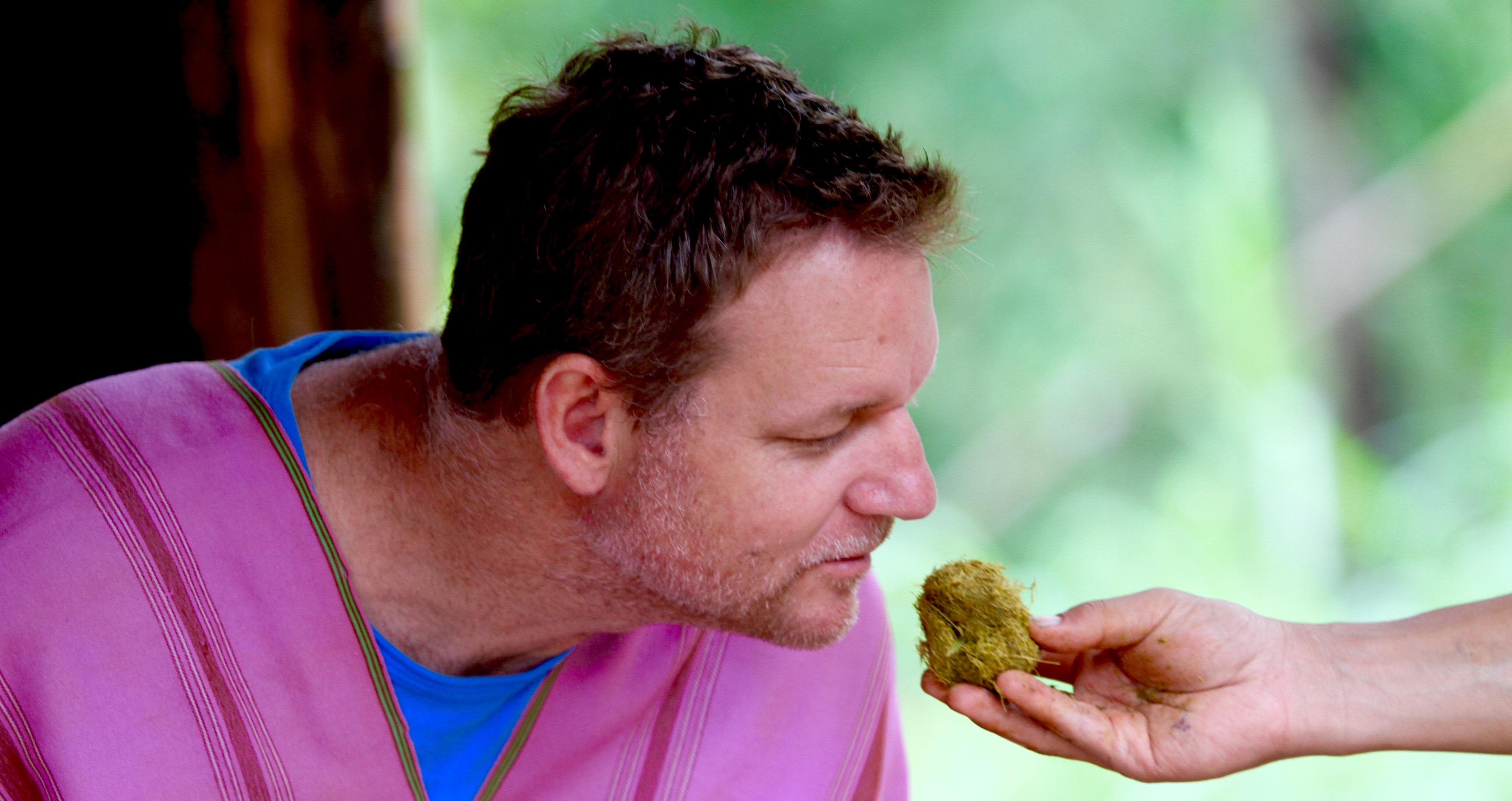 The bonding session lasts a few hours and in this time I have fed,  washed, thrashed and gotten to know Ploy. I am completely at ease with this gentle giant. Don't get me wrong I know she can pretty much do as she pleases and I respect her implicitly but I feel confident and can't wait to go for a ride. She assists my mount by hoisting me up with her trunk, it's a pretty cool feeling sitting up top.
Jules has mounted Chaapoo and with Yaya in tow we set off. We stroll along dirt tracks,  through some jungle, down a road and past some housing. It's very bizarre riding an elephant past someones home. Jules and Chaapoo are in front of me and I can see Yaya occasionally shoot off into the jungle to see whats happening. Chaapoo makes a call and Yaya comes rushing back. This is such a buzz.
Swimming with elephants
Our ride is over as we reach the river. I am like a kid at Christmas, this is what I've been waiting for all day and I can't wait to swim with Ploy. I dismount as she wades into the water. This is her daily routine, and she knows exactly what to do. I am unsure, so the Patara staff hand me a bucket and a scrubbing brush and off to work I go. Ploy seems to be loving the attention.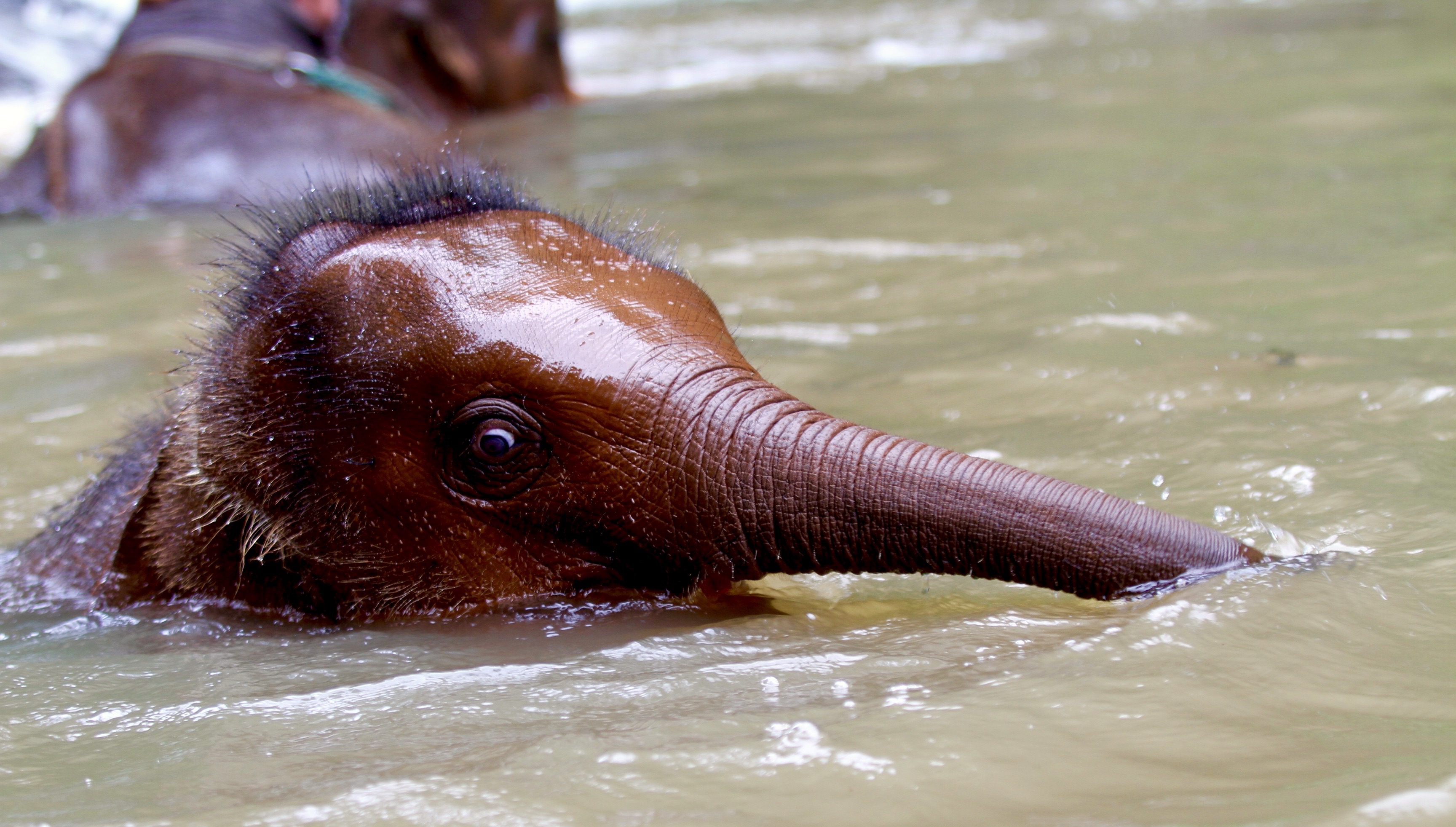 Jules gives Chaapoo a work over and Yaya is submerged with only the tip of her trunk protruding from the water. Ploy also submerges herself as I clamber onto her back. We splash and play, I am having the time of my life. We are in the water for an eternity. No one wants to leave, especially me.
All good things come to an end
Unfortunately my day with the elephants is over, I am exhilarated, sad, exhausted, grateful and euphoric all at the same time. This is without doubt one of the most memorable days of my life. This is one experience everyone should have in their life. Spending the day at Patara Elephant Farm gives you a unique understanding of this amazing animal.
Mahout for the day is another This Life List adventure checked off